Pre-order for 2023 today!
Early Bird Discount Before April 30th.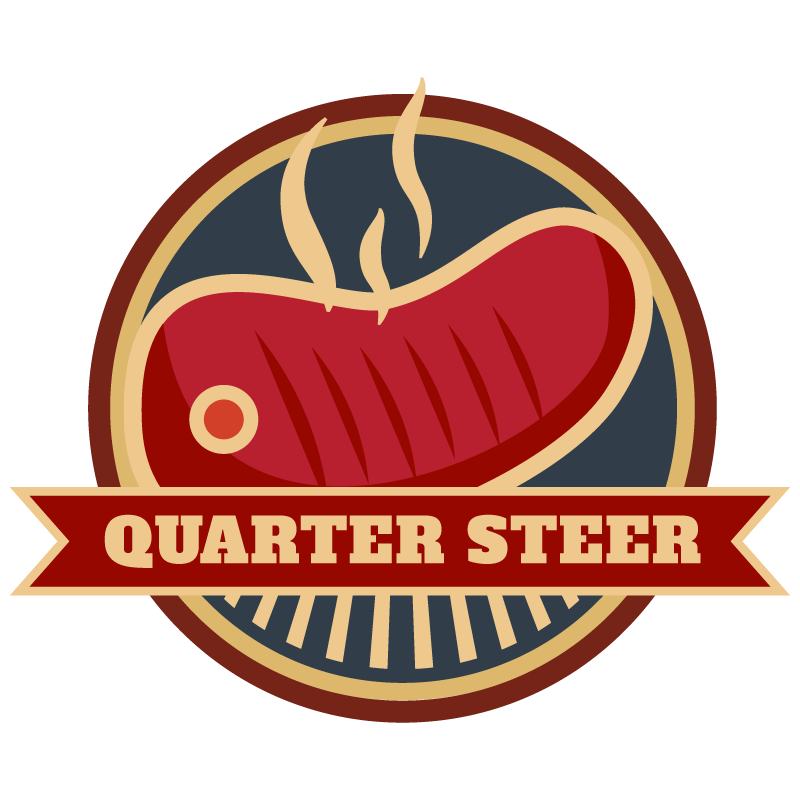 Pricing
---
Price per Pound: $9.95
Spring Steer Sale Price per Pound: $9.70
* Order by April 30 for Spring Steer Sale Pricing
Approximate Weight: 105 pounds
Base Price: $1044.75*
Spring Steer: $1018.50 *
Required Deposit: $300.00
Optional Vacuum Pack (+ .35/lb): $36.75 *
Optional USDA Inspection (+ .35/lb): $36.75 *
* A 2.9% payment processing fee will be charged for credit/debit card payments.
* Actual price will be determined at the time of processing. See our Payment FAQs page for more details.
Portions
---
The cut list is an estimate of what you will receive with your package. Actual sizes and amounts vary by individual steer.
Steaks (Approx 25 – 30 lbs, steak thickness ~ 1")
Note that Top Sirloin, Flank, and Skirt steaks are packaged individually; all other steaks are usually 2 per package.
6 Rib Steaks (1" bone-in)
4-6 T-bone Steaks
2 Porterhouse Steaks
6 Sirloin Steaks
4 Sirloin Tip Steaks
1 Flank or Skirt Steak
Roasts (Approx 20 - 30 lbs at ~ 3 lbs each)
2 Arm Roasts
3 Chuck Roasts
1 Rump Roast
1 Pikes Peak Roast
1 Brisket (depends on steer size at butchering)
Other (Approx 12 - 20 lbs)
3 Short Ribs
1 Neck Bones
Stew Meat (2-3 lbs)
1 Liver
Ground Beef (Approx 30 - 40 lbs)
Variety Meats (optional)
* Variety meats and organs must be requested prior to October 1st
1 Tail
1 Heart
1 Tongue
2 Kidney