Order by April 30 for Early Bird Pricing!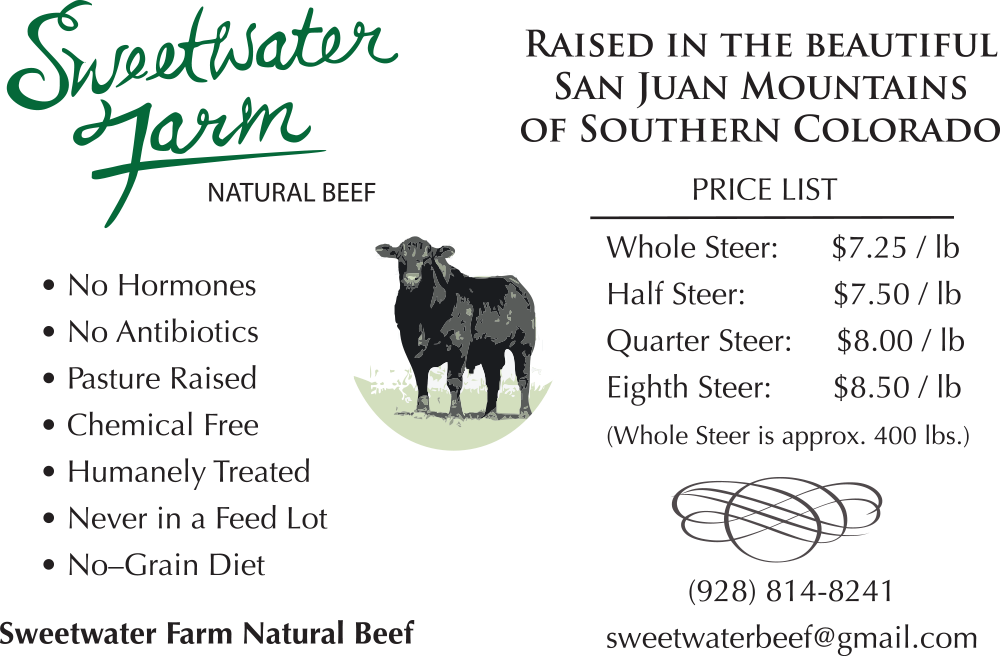 Hello Everybody,
We hope you all are enjoying the great winter and spring of 2017, and before we forget, here's to a great 2016!
We just want to take a moment to thank you for your support. It makes us happy knowing that the Sweetwater Farm steers went to good people.
Because the community has shown us such great support, we wanted to give back to the community. To celebrate the New Year, Sweetwater Beef donated 1/8th of a steer to a young Flagstaff family of three that is hustling like we all are to make ends meet, while also dealing with various disabilities. Another 1/8th of a steer was donated to the Whale Foundation Wing Ding Silent Auction to support the Grand Canyon Commercial River Guide community: a community to which Pat and Susan belong.
We also want to show our appreciation to you loyal customers by keeping our early bird prices for 2017 Sweetwater steers the same as our 2016 prices:
Full Steer: $7.25/lb ($1,000 deposit)
Half Steer: $7.50/lb ($500.00 deposit)
Quarter Steer: $8.00/lb ($300.00 deposit)
Eighth Steer*: $8.50/lb ($200.00 deposit)
* Recognizing not all carnivores are created equal, Sweetwater Farm will now sell 1/8 portions of steer (we don't want our beef going bad in your freezer). We'd rather sell you fresh beef every year in an appropriate amount.
Once again, we appreciate your business, all the positive feedback, and your continuing support. In the meantime, to pre-order your 2017 steer, please visit our web store, contact us at sweetwaterbeef@gmail.com, or call us at (928) 814-8241.
Sincerely,
Pat and Susan